O Tempo e o Vento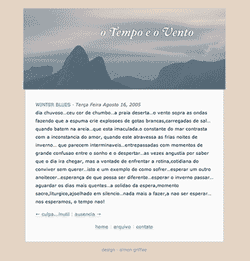 OTempoeoVento.com
Website design
Problem
A psychiatrist working in and around Rio de Janeiro, Brazil needed an anonymous place on the web to put his thoughts. He is not a computer expert and his access to computers is intermittent: the publishing system had to be easy, accessible and in Portuguese.
Solution
HyperTextHero designed a simple, elegant website which is as easy on the eyes as it is to publish to thanks to elegant open-source technology.
Work Done
Photography, Graphic design, HTML markup, CSS, template development and implementation.