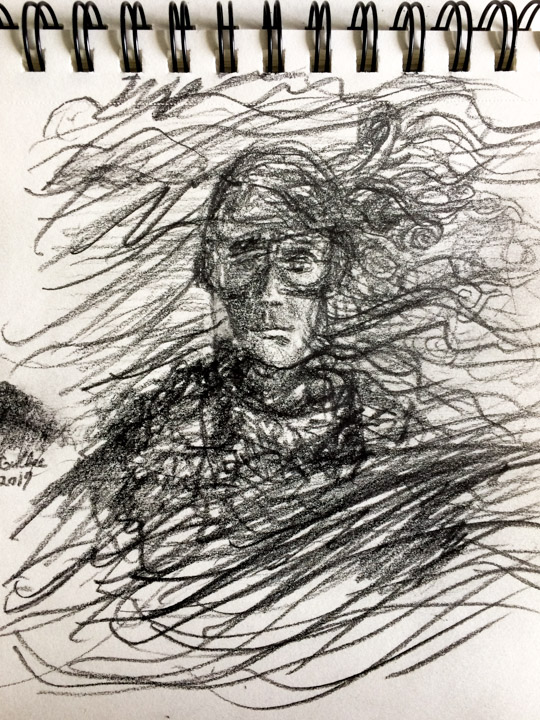 Hi! Freelance amateur here, fairly experienced in making things using technology ranging from pencils to computers.
Growing up in South America and North Africa, studying in the British Isles and the Italic Peninsula, and working and traveling around the world made me a life-long student of play and daydreams.
I write in a mostly visual notebook and in a video game and technology blog. You can see me livescream on Twitch quite regularly, and, rarely, edit imgtlk, a small project where people write about art that touched them. I published a book of photographs I took called Windward that you can get here.
Overall, I want to contribute to a world where kindness, relationships, and skills are valued more than social status, careers, and money.
A universal basic income would likely be a part of this world so people can be free to work on what interests them without harming each other, their environment, and the creatures they share it with.
Look! I'm on Twitch, YouTube, Threads, Patreon, and Instagram, and you can even email me at simon@simongriffee.com. If you have not had enough yet and want to be notified of notebook updates here you can subscribe to my mailing list.
Kind Words 💖
Dear Simon, Here is the final version with the change in the last scene as requested by you. I must say that I was very satisfied with the product we made together and I also want to tell you that it was a pleasure to work with you. See you soon. Cheers.
I really like this symbol. Thank you.
For a designer of such creativity, Simon also demonstrates all the essential qualities of a good colleague. He's reliable, punctual, patient and good humored.
I've had the opportunity to review Simon's professional work and have found it sound and appropriate and, at this point, shows significant growth.
Thank you for my beautiful poster to add to my collection! Perhaps my all-time favorite.
Dear Simon, Very many thanks for this efficient and super-skilled operation. Nice to see you again after the break. Much appreciate everything you do for the Academy: can't say that often enough.
I thought the love and longing category was a nice touch full of humanity. All the photos are beautiful!
Your pictures are so, romantic.
Thank you to everyone who has read my stuff over the years and given me such positive feedback. I would never have had the balls to apply for this job otherwise. Especially Simon Griffee who by encouraging me to write in the first place has unwittingly changed the course of my entire career. I owe you a visit and copious beers :)
Simon is a talented designer and web developer. He is not only competent in his field but has exceptionally good taste. He can guide his customers from a very rough idea to a final product that both meets their functional needs and looks great. One thing that really distinguishes Simon is that he has 'hard' and 'soft' skills. He understands web development inside and out. At the same time he excels at listening to his colleagues and discerning what they really want. For better or worse, many work environments have interpersonal friction at some point or other. Simon is one of those people that exerts a calming influence on an office just by his presence alone. While "likability" is not necessarily a key criteria for hiring someone, bringing Simon onboard can make a good team better and a fractious team more manageable.
It was a privilege to have known and worked with Simon for six years. He did an excellent job and was an asset to our organization.
Simon is a brilliant designer, a pleasure to work with, an open and creative person, honest and direct. I would recommend him for any position or assignment.
Apart from the layout and overall design, what is so wonderful about your work is your ability to blend the writing and the art in such a sophisticated way. One complements the other and the result is harmony and visual pleasure. Brilliant.
Hi Simon, your work always fascinates me. At first your pages look a bit oversimplified, almost 'empty'. But then the realization that everything is there and easily found begins to emerge and they become a pleasure to use. I am very happy with the way it looks, well done!
Simon, As we finish another HS basketball season, as always, I bring up your memory. You are still the most natural passer and player I have ever coached. I am glad to finally get ahold of you again.