Food News Web Application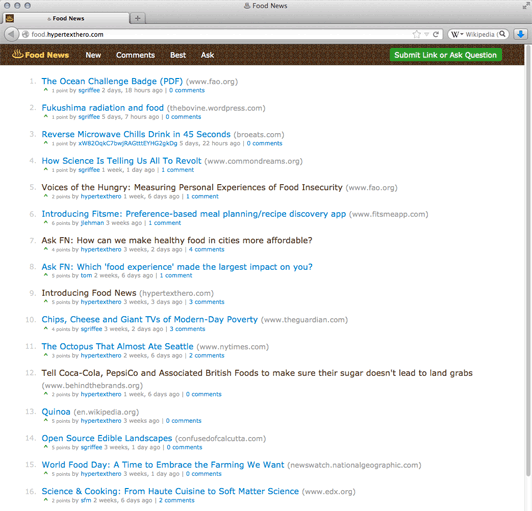 Web Application Hacking, Python, Django, HTML, CSS, JavaScript, Graphic Design.
Problem
No problem. I wanted to see if I could create a Hacker News clone with Mozilla Persona for authentication. I had already made two attempts at this type of web application, one for Rome links and stories and another for a zombie apocalypse game called Day Z, so I thought I'd do one for food while working at the Food and Agriculture Organization.
Solution
I hacked together something called food.hypertexthero.com (GitHub link) building upon the work of Stephen McDonald's Drum, which was itself built upon his own excellent Mezzanine content management system. More details are available in this article.
Work Done
Web application hacking (Python, Django), HTML, CSS, JavaScript and graphic design.
The ♨ glyph in the logotype is Unicode character 'Hot Springs' (U+2668) in the Miscellaneous Symbols Unicode block (2600-26FF), which I am using in the text above. For the Food News site, I made a PNG image of it for reliable rendering across browsers.