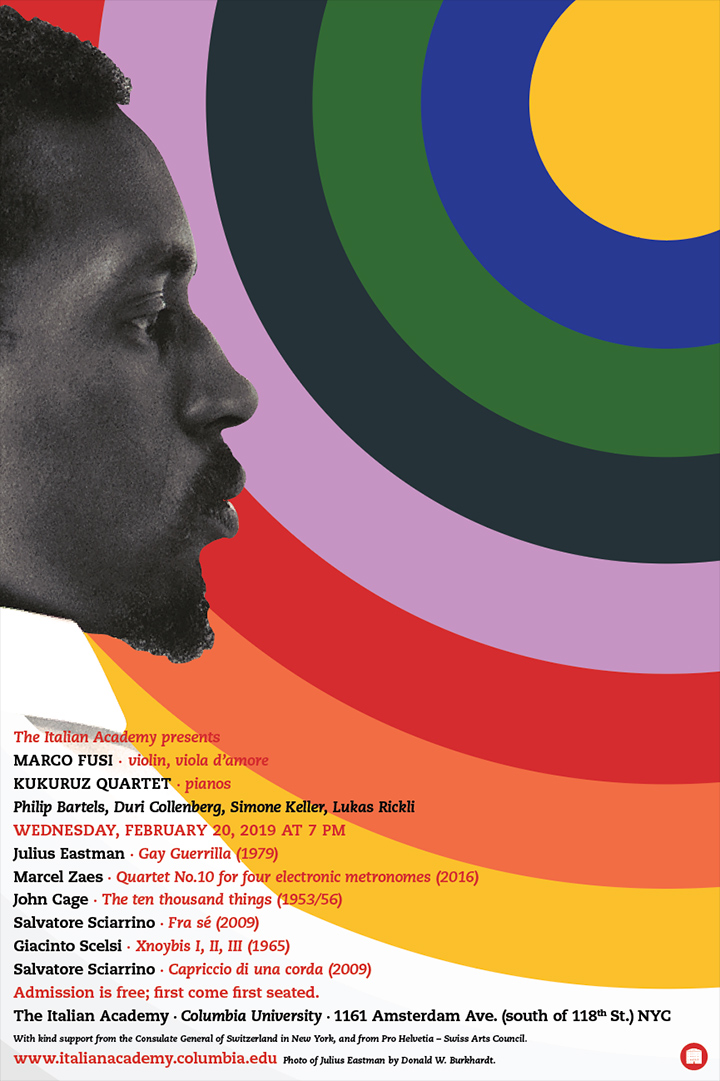 Julius Eastman Poster, New York City, 2019
The Italian Academy presents
MARCO FUSI · violin, viola d'amore
KUKURUZ QUARTET · pianos
Philip Bartels, Duri Collenberg, Simone Keller, Lukas Rickli
WEDNESDAY, FEBRUARY 20, 2019 AT 7 PM
Julius Eastman · Gay Guerrilla (1979)
Marcel Zaes · Quartet No.10 for four electronic metronomes (2016)
John Cage · The ten thousand things (1953/56)
Salvatore Sciarrino · Fra sé (2009)
Giacinto Scelsi · Xnoybis I, II, III (1965)
Salvatore Sciarrino · Capriccio di una corda (2009)
ADMISSION IS FREE; FIRST COME FIRST SEATED.
The Italian Academy · Columbia University · 1161 Amsterdam Ave. (south of 118th St.) NYC
With kind support from the Consulate General of Switzerland in New York, and from Pro Helvetia – Swiss Arts Council. Photo of Julius Eastman by Donald W. Burkhardt.