Plant Treaty Internal Website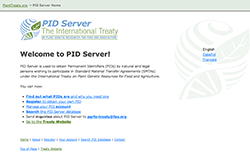 Plant Treaty Internal Website
Website design
Problem
IT Works was working on a website that helps the International Treaty on Plant Genetic Resources for Food and Agriculture (ITPGRFA, phew!) do its job of facilitating the sharing of plant genetic resources among countries around the world.
IT Works needed the client-side of the website to be as easy to use as possible for an audience spread across most of the planet using a wide variety of computer systems and of varying computer skills.
Solution
I designed the front-end for the ITPGRFA internal website. An easily customizable site was made on a foundation of web standards with maximum usability, accessibility and simplicity. This ensured the site was as usable to someone with a modern computer and a DSL connection as to someone with an old machine and a 14400 bit/s modem.
Work Done
Graphic design, XHTML markup, CSS.