Just over a year ago we arrived in NYC during a cold night and used wifi at a McDonald's at 3am in order to contact the person responsible for the place we would stay at for the first month near 137th street. Amber immersed indoors to work and I outside despite the weather. After the first month we moved further up Harlem to 145th street with Gianni and Maude.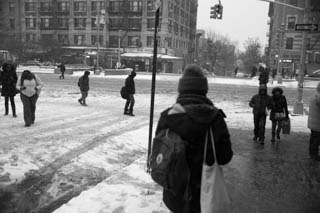 I got my first job by walking around the Columbia campus and finding a notice looking for a graphic design student in the History department. I wrote and was called in to work a few hours a week with the lovely staff at the Italian Academy after convincing them that I am a life-long student.
After four months we moved to an old apartment by the campus on 114th Street, sublet from two nice History professors, and I got my second job helping a legendary street photographer and his family pack and move from New York City to Beacon. I got in touch with Bruce again through a nice person called Cameron from Magnum Photos who I met after doing a workshop with Peter Van-Agtmael, another nice person recommended to me by my friend Mino. I'm very happy to be friends with Bruce and his family — such special people, the Gildens, cats included!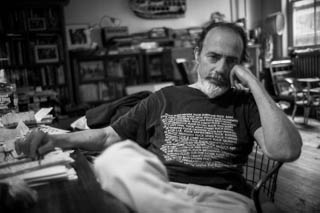 Meeting photographers on the street has been a highlight of living in New York and I am glad to have spoken to many. The first was Omar Robles who encouraged me (along with Emelyne) to try Instagram. I still don't know what to think about it other than perhaps this: There is a strong, instinctual human desire for visual communication, and people and companies are taking advantage of it. I even attended a meetup, though ultimately the act of photography is, to me, a solitary one.
During summer I had reunions with four childhood friends from Brazil and one I met in Tunisia when I was really learning English. One of them is a fashion photographer who pointed out I accidentally took a picture of a well-known model on the street. I visited MIT, a place I liked a lot and hope to return to for a while some day.
I made new friends including Mike and then Isaac from K&M Camera, the latter who led me to get New York to Nuova Scotia and to go see Robert Frank and June Leaf's door. I visited Google (thanks, Gino!) and visited Michigan three times, including for one wedding, and Thomas, West Virginia, once. I met Geoff Dyer and Sally Mann and even Drew and Carolyn came to visit!
I cried when I heard Leonard Nimoy had died. B.B. King is also gone, as is Hermann Zapf and a friend called Corey whom I hadn't seen for a long time.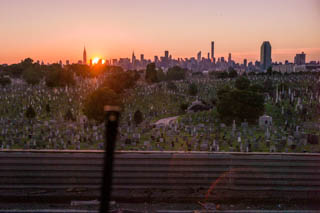 During my walks photographing the city I passed in front of a chip shop 20 minutes before an explosion that killed two people and subsequently destroyed the building by fire. Death reminds me to make the most of life's moments, and not worry too much.
Earlier in the year I designed an international symbol for an observer and it was accepted by the Unicode Consortium so you may see it in your emoji list on your mobile phone in the future! I attended one makeathon and hackathon related to blockchain technology which may be part of the answer for a basic income for all human beings on the planet and found an M-Class Earth-like planet in the Elite simulation I enjoy retiring to at times in the evening and dedicated it to my late father.
We moved to Inwood, which was a pleasant surprise. I did not know one could live next to an old forest in Manhattan. There is a lot of good food all around us, we hear, but we have only been able to afford to eat at home while getting settled in New York City. Only free (or highly discounted, due to Amber's student status) concerts and museums, too: NYPL Public Eye and Cooper Hewitt exhibitions; Bob Dylan's Highway 61 Revisited, released 50 years ago, performed in its entirety by Fiona Apple and Watkins Family Hour house band and guests (my favorite performances were Fiona's A Mistake and Shawn Colvin's cover of Ballad of a Thin Man); Shakespeare's The Tempest at Marcus Garvey park; Tosca at Lincoln center together with Amber's advanced Italian class; Magdalena Baczewska's concert, for which I made a poster; Photographer meetups on Tuesdays at Doctor Thoms' (thanks Theo, Mike, Tanner and Robert!)
My 'Palm Sunday' photograph was in the Penumbra member show at Soho Photo Gallery — my first exhibited work in New York.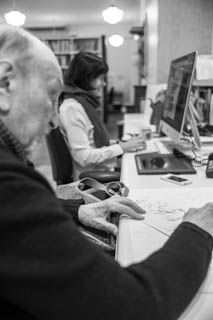 Towards the end of the year I began working for my graphic design mentor Milton Glaser, Sue and Dan in the legendary studio on 32nd Street. I had only met Milton through his work and still find it hard to believe and am amazed to be in the studio where the words 'Art is Work' are written on the door.
I like to remember the good things happening around the world, and how small we all are in reality. Yes, 2015 was also a year of progress for people living together.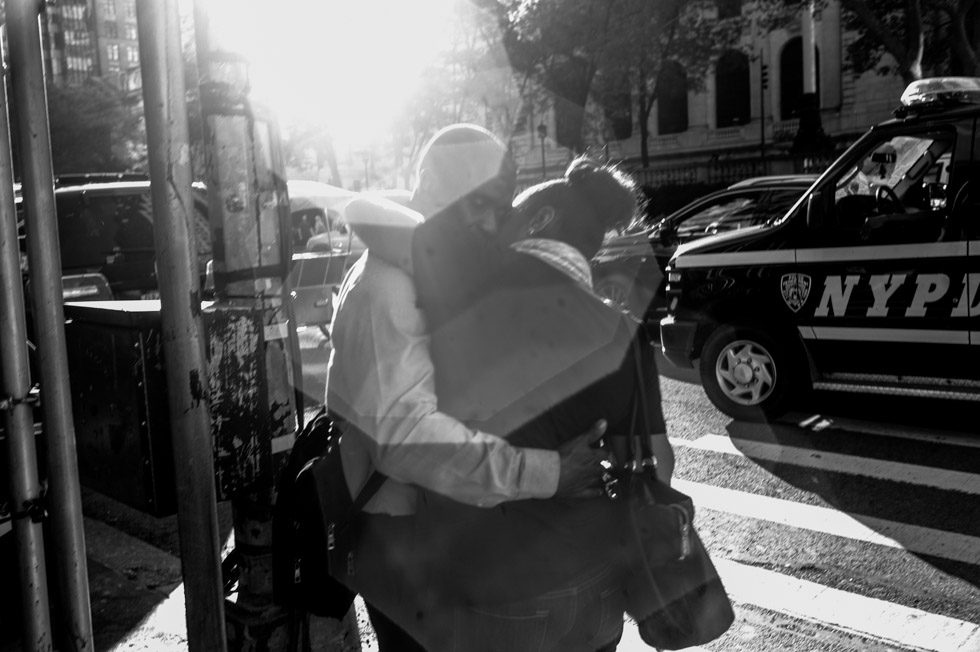 —Simon, writing from Rome, with my mom, my brother, and Amber, who has worked incredibly hard this year (though she makes it look easy!), and without whom I would not have experienced anything close to 2015.